Avril Lavigne Makes Rare, Rollicking Appearance on Grey's 'Wings Clipped'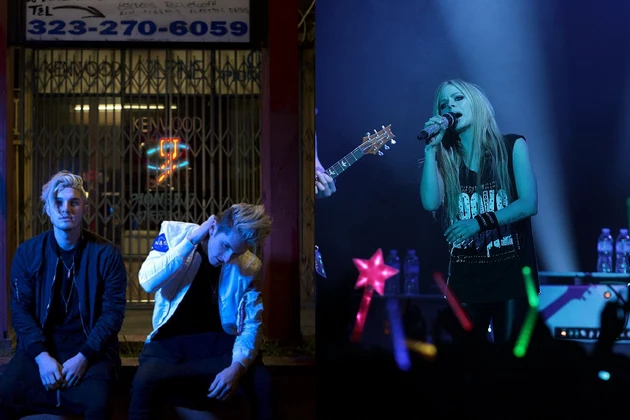 After teaming up with Zedd and Hailee Steinfeld for "Starving," Los Angeles electronic producer Grey is back with a very different collaboration starring another bona fide pop princess: Avril Lavigne.
Lavigne is featured on the pair's rollicking new track "Wings Clipped," which also includes Circa Survive frontman Anthony Green.
The entrancing fusion track hearkens back to the glossy rock of the late '90s and early '00s, which an energized injection of dub (think if Evanescence and Linkin Park were remixed by Diplo). It's edgy, nostalgic and darkly melodic; as Green and Lavigne trade verses, we're pulled right in.
The feature marks a rare appearance from the Canadian punk-pop star, who has kept relatively quiet over the past few years. (Her last collaboration, "Listen," was with J-rock band ONE OK ROCK back in January.)
"We heard that Avril was a fan of 'Starving' and we were obviously really stoked. We were starting to finish up the EP when she heard 'Wings Clipped' and loved it," the duo shares.
"She asked if she could jump on it with Anthony and we agreed that it would be perfect! We grew up listening to Avril and Circa Survive so hearing the two of them on one of our songs is surreal to say the least."
Listen to Grey's excellent debut EP, Chameleon, below:
Avril Lavigne's Best Live Vocals:
Subscribe to Channel 95.7 on
The Pop Princesses of 2003:

Source:
Avril Lavigne Makes Rare, Rollicking Appearance on Grey's 'Wings Clipped'